Dia de los Muertos Menu
---
Network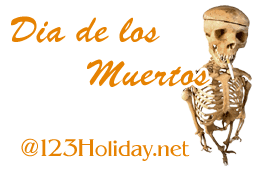 Make Your Own Altar
The most important thing to put on your Day of the Dead altar is a photograph of the person to whom you are dedicating the altar.


The three tier altar is covered in "papel picado" - which is bright colored tissue paper with cut out designs. The paper can be either handmade or purchased. Three important colors are purple (for pain) white (for hope) and pink (for the celebration).


Candles are also placed all over the altar. Purple candles again are used to signify pain. On the top level of the altar, four candles need to be placed - signifying the four cardinal points. The light of the candle will iluminate the way for the dead upon their return.


Three candy skulls are placed on the second level. These represent the Holy Trinity. On the center of the third level a large skull is placed - this represents the Giver of Life.


All bad spirits must be whisked away and leave a clear path for the dead soul by burning in a bracero, a small burner used to cook outside. Or you can use a sahumerio to burn copal or incense. A small cross of ash is made so that the ghost will expell all its guilt when it is stepped on.


The Day of the Dead bread, pan de muerto, should be accompanied by fruit and candy placed on the altar. Pan de Muerto is plain round sweet bread sprinkled with white sugar and a crisscrossed bone shape laid on top. You can also add the person's favorite food.


A towel, soap and small bowl are put on the altar so that the returning ghost can wash their hands after their long trip. There is a pitcher of fresh water to quench their thirst and a bottle of liquor to remember the good times of their life.




Search the web: