Dia de los Muertos Menu
---
Network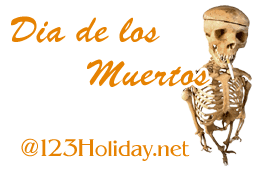 Dia de los Muertos Recipes
POZOLE
Pozole is a kind of corn-meat soup that is the regional dish of Guerrero, although versions are certainly made in other states. Its foundation is a staple of pre-Columbian diet, hominy, or whole corn kernels. The hominy ("cachuazintle" in Nahuatl) of Guerrero is a special variety of corn featuring much larger ears than North Americans are used to eating, more like that grown for animal feed. Made from dried kernels hominy must be soaked overnight, cooked and then washed. Before cooking each kernel must have the small "eye" at the base meticulously removed so that it will "blossom" when cooked. The process is laborious, so we recommend using the canned variety. In Mexico a whole pig head and pig feet are used to make the broth! Since most American markets do not stock whole heads, though pig feet are widely available, we recommend substituting the same weight of pork loin. When cooked it makes a dish to which North Americans are more comfortable.

SOUP:
1 1/4 lbs. hominy
2 1/4 LB pig head (or pork loin)
2 pig's feet
1 whole onion, chopped
1/2 whole head of garlic, peeled
6 whole guajillo chiles, seeded and deveined
3 whole ancho chiles, seeded and deveined
Kosher salt, to taste
GARNISH:
1 head romaine lettuce
1 bunch radishes
4 limes, quartered
1 avocado, peeled and sliced
fried pork skins (chicharon)
1 3/4 oz. powdered chiles pequin
2/3 cup dried oregano
tostadas
TO MAKE SOUP:
Place pork in a large soup pan, cover with water. Bring to boil, reduce heat to simmer and cook until flesh comes off the head, about 1 hour. When done, remove meat from water and set aside. When meat is cooled, remove all the edible parts from the head, or if using loin, cut into small chunks. It is best for flavor not to skim the stock before using it again, though you may if a lower fat pozole is the object. Place canned hominy in stock and return meat to pan. Return stock to simmer and cook uncovered for 1 hour. At end adjust salt to taste.

TO PREPARE CHILES:
While the soup is cooking, soak seeded and deveined guajillo and ancho chiles in 1 cup of hot water for about 20 minutes, or until soft. Place chiles, garlic and 1/2 onion in bowl of food processor or blender. Puree. Stir the puree into the heated stock. Add hominy and meats. These will be cooked in the stock for 1 hour (see instructions above). Cook as directed above.

TO SERVE:
The oregano and pequin chile powder are added to each bowl by the diner, to taste. Remember, the pequins are HOT. The pozole is placed in each soup bowl together with portion of chopped onion, a thin slice of romaine lettuce and sliced radish, and seasonings to taste. Each portion may be topped with avocado slices and pork skin slices. Eat with tostadas. Serves 6.

Note: The "heat" in chiles comes from the seeds. Contact with them can irritate the skin and especially the eyes: never touch your eyes with your hands after handling chiles! When seeding chiles it is always best to wash your hands thoroughly afterward, or if your skin is very sensitive, to wear rubber or plastic gloves.

Halloween Costume Ideas


---
SALSA BORRACHA
Salsa Borracha, or "Drunken Sauce," is a wonderful sauce used in many dishes. But it goes especially well with insects. Chapulines, or grasshoppers, that have been dried and cured in lime juice are often served with it. So are Escamoles, or ant eggs, whose corn-like taste is set off by the complex flavors of the sauce.
6 ancho chlies, soaked, seeded, and deveined
water to cover
1 cup orange juice
1-2 Tbsp. cooking oil
1 /2 small onion, chopped
¼ cup mescal or tequila.
salt and pepper -- to taste
1-2 Tbsp queso fresco (fresh Mexican cheese) grated
Soak chiles in water to cover until softened enough to puree. Remove seeds and veins. Place chiles in a blender or food processor together with orange juice. Process until smooth. Heat oil in a heavy skillet, add onion and saute until transparent. Add chile-orange juice mixture and heat to boiling. Quickly reduce the heat and simmer for about 5 minutes. Pour sauce into a serving dish and allow to cool. Stir in tequila or mescal. Adjust salt and pepper to taste. Just before serving sprinkle greated cheese on sauce. Serve on side of dish with dried grasshoppers.

Gusanos de Maguey are especially good to eat and highly prized.

Spirit Halloween Coupons


---
SALSA DE GUSANOS DE MAGUEY (WORM SAUCE)
Ingredients for Mexican cuisine are now widely available throughout the United States and Canada. Many supermarkets now carry sauces and even chiles used in many dishes. Dried pasilla and ancho chiles might be available in packages. Asian markets also carry ingredients used in Mexican cookery, such as cilantro and some chiles. If you are lucky enough to live in an area where people of Mexican extraction live, then such exotic items such as gusanos de maguey or chapulines might be available. If you cannot find any of these ingredients, then a trip to Mexico is in order.

In case you don't want to eat the delectable dried and cured caterpillers from century plants (gusanos de maguey) themselves, here is a sauce that gives their flavor to any dish.

Insects were a major part of the Pre-Columbian diet. Mexicans were deficient in animal proteins because they had so few domesticated animals. Therefore, insects were an important food supplement. Insect-eating lives on in many parts of the country and it one of the ways by which Mexicans retain their traditions.
5 pasilla chiles, soaked, seeded and deveined
5 ancho chiles, soaked, seeded and deveined water to cover
4-6 large dried gusanos de maguey (caterpillers from the maguey plant), soaked in 1 cup hot water
5 cloves garlic
1 teaspoon salt
1 teaspoon dried shrimp
Soak the pasilla and ancho chiles in water. When soft enough to puree, seed and devein. Soak gusanos in hot water until soft. Place all the ingredients in a food processor or blender. Process until smooth. Heat before serving. Goes well with any tortilla-bases dish.

Gusanos de maguey are hard to find in North America, so this recipe can be adapted to give some elements of their flavor. Simply substitute 1 large tomato for the gusanos and about 1 T mescal, or to taste. If using tomato it is best to toast it on an open flame or in a broiler and then remove the skin. Blend everything together and serve it with chicken enchilladas.

BuyCostumes.com Coupons



Search the web: